Financial Tips For The Sandwich Generation
In this article: Discover if you're part of the "Sandwich Generation" and learn the top six financial planning tips to ensure you're prepared for the future, regardless of your potential financial burdens.
Feeling financially and emotionally stressed due to caring for both older relatives and young children is becoming increasingly common among Americans. The sandwich generation are middle-aged adults that are supporting their children, as well as their elderly parents. The responsibility that they hold is not only mentally exhausting, but can feel financially straining. This is because these individuals are now "sandwiched" and must stretch their income to provide financial support on both sides. If you are part of the sandwich generation, there are financial planning tips you can follow to ease the stress that this brings.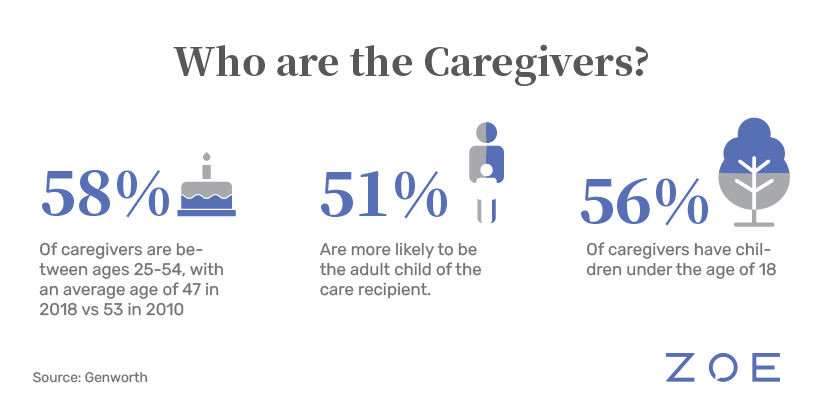 Top 6 Financial Planning Tips for those in the Sandwich Generation
1. Openly Communicate With Your Parents About Their Financial Situation and Expectations
This financial planning tip is crucial to your overall plan. You will not be able to prepare a financial plan if you are not up-to-date on your parent's finances. You should ask your parents about savings, debt, retirement income, and any other expenses that they may have. From there, you can shift the conversation to focus on their expectations. Do they need a little extra help every month or are you taking on full responsibility for their bills? When you answer these important questions, you'll have a better idea of what's to come in the future. 
2. Ask Family Members If They Are Willing to Help
In some cases, the responsibility for financial expenses will fall on a single family member, but not always. If you have family members that are able to help share the responsibility, you should talk with them and set up a plan. At the end of these conversations, you'll have a better idea of how much financial responsibility you're taking on; this will help you understand how much you need to budget.
3. Consider Long-Term Care Insurance
In general, the older a person gets, the more financial help that they'll require. Long-term care insurance covers care that's not included in regular health insurance.  Although many people think that this solely means nursing home care, it also includes other accommodations such as: help with daily living activities, home care, and home health provided by a professional.  
It's important to remember that not every insurance plan is the same, so consider the advantages and disadvantages of each plan before committing. These plans tend to be more expensive, but can save you money in the long-run. You should speak with your financial advisor to consider if this is a good option for you and your parents.
4. Prepare for Your Children's Needs
One of the big expenses that you may be preparing for is paying for your children's education. One of the top options available to you is a 529 savings plan. This plan allows deposited money for college to grow tax-free; it can also be withdrawn without being taxed. This is just one of the plans available, but it's important to consider different options with your financial advisor. In addition, you should take this time to teach your kids basic money skills, which can help them to be financially independent later on in life. For those that have older kids who recently returned home, you may want to consider asking them to pay some of the bills.  
5. Save Money on Bills With the Help of a
Financial Advisor
If you are part of the sandwich generation, you are probably trying to budget as best you can with the money that you have.  Additionally, however, you should reconsider what type of plans you have and review if they are benefiting you.  For example, you may not be taking advantage of tax deductions.  If you're unaware of how to examine these areas, you should ask your financial advisor for assistance. 
Although caring for your family is very important, you do still have to take into consideration your own financial stability. You should contribute enough to at least get the maximum employee match; that way, you aren't wasting any free money. If you want to save in other retirement accounts, you should consider your possibilities, which include Roth IRA, 401(k), and 403(b). Make sure to choose the retirement account that offers you the best tax benefits.
Preparing for the Future in a Sandwich Generation
These financial planning tips should better enable you to ta'ke on these extra financial responsibilities. It's important to remember that during this time you should still be planning for your own financial future and goals. A great financial planner helps those in a sandwich generation optimize current spending and budgeting while also preparing them for retirement.
Forbes notes, "It may feel unnatural, even selfish, as a parent to put yourself before your children, but when it comes to financial planning, it's actually better for everyone to make yourself a priority."  Although it's common to feel stressed out, don't do anything that you're unable to do financially. By considering your own needs as well, you will prevent your kids from having to face the financial strain of providing for you in the future.
Disclosure: This blog is not investment advice and should not be relied on for such advice or as a substitute for consultation with professional accounting, tax, legal or financial advisors. The observations of industry trends should not be read as recommendations for stocks or sectors.
Ready to Get Started?
Real financial planning should pay off today, and in 10 years' time.