Money and wealth, along with politics and religion, are topics most folks avoid in conversation. To avoid family drama, important conversations around financial habits are swapped for talk about sporting events and the weather. Unsurprisingly, a 2014 study by the American Psychological Association (APA) found that almost 40% of Americans find it uncomfortable to talk about issues of wealth with their families. The long-term effects are impactful: the APA found that the children of those who are not spoken to about money often face greater financial instability. While it may be stressful to discuss finances in your home, parents must ask themselves if the stress of doing so is greater than their child's future financial distress. By instilling good savings habits in your kids, you can prevent the negative effects of avoiding money conversations. 
According to a 2005 paper published by the University of Minnesota, developing a healthy relationship with money requires parents to motivate their children to learn from their errors and recognize their children's points of view. These exercises may occur during essential discussions of financial management and decision-making. You can also do this by giving your kids some chores to do on Sunday morning, or telling them, and yourself, "no" when window shopping. 
Setting an Allowance 
The University of Nebraska recommends that there should be a distinction between rewards(given on special occasions), set earnings(made for specific chores), and an allowance (for buying "wants" and "needs"). This approach allows children to have positive experiences with money that prepare them for budgeting in their adult lives. 
The timing for giving your children an allowance can be a tricky decision as it means that you are putting them a step closer to independence. This can certainly be scary, but it is most certainly manageable. Kimberly Palmer, a best-selling author on navigating finances with children, suggests that you should begin to give your children an allowance at the early age of five. In this way, parents have a head start in teaching their kids how to deal with losing money, saving, sharing, and donating from an early age.
Savings Through the Years: K-12
It can still be challenging to encourage saving, regardless of your child's age.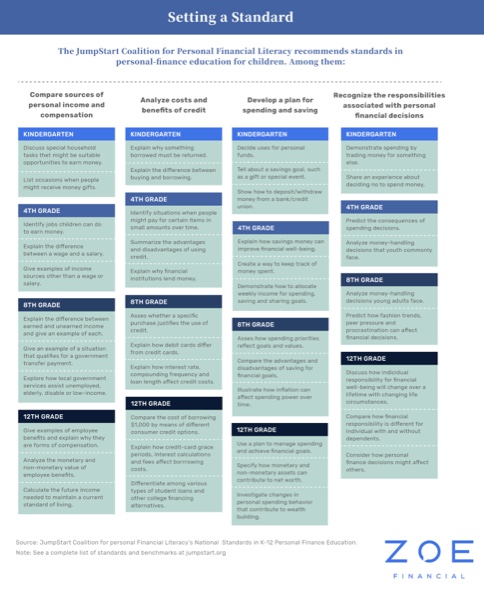 The above chart published by the Wall Street Journal focuses on four key pillars. Start by comparing sources of personal income and compensation. Provide opportunities to analyze costs and benefits of credit, develop plans for how to save and spend, as well as, recognize responsibilities related to personal finance decisions. 
How Should I Talk to My Kids About Money?
You may think that the words that you use to reference "money talk" are of little consequence. Nevertheless, the use of certain words facilitates effective conversations in a family. For example, the APA suggests that instead of saying "We can not afford that," it is more constructive to say "That's not how we choose to spend our money."
This type of language opens up a conversation about "thinking before acting," or purchasing consciously.  This can also lead to a talk where you can explain the importance of spending an allowance fruitfully, and distinguishing between "wants" and "needs."
A Token Economy: Can Money be Fun?
If you want to introduce money, start doing so with cash and coins. To make it a worthwhile experience, you can talk to children about how a coin is made or who the man with the wig is on the dollar bill. Then, you can begin to explain a more complex concept: why does everyone use money? Approach the topic during a trip to the grocery store or while ordering something online.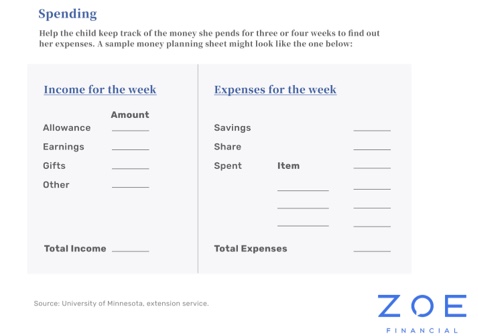 It's possible to start the conversation at an early age. The University of Minnesota suggests that toddlers can start to experience a "token economy" by pretending to play in grocery stores or banks: games that can actively involve your child in playing and beginning to understand money.
It is important to recognize that it may be more constructive to create other activities for older kids, by introducing them to "easy to read" financial books and giving them an active role in discussing family finances. Explain to them how your family approaches investing, paying for taxes, and seeking financial advice from an advisor. 
Teenagers can be a bit more challenging, but the key is to try to involve them in regular financial adult activities. From grabbing groceries to having an after school or summer job, teenagers can learn the importance of work and managing their money. To further develop your child's financial skills, encourage them to look for work outside of the home as teenagers. Their ability to create financial independence is a great habit you can help instill – especially before they head off to college! 
The Value of Instilling Good Savings Habits
Often, children think money comes from trees because they haven't been taught otherwise. Nevertheless, it's easy to instill good saving habits in children when you teach them the value of money. To do this constructively, show them how to effectively use their rewards, allowance, and potential earnings. Engage in conversations that encourages thoughtful spending and saving habits. The important thing to remember is that the concept of money for children will differ depending on their age. For this reason, finding creative ways for your child to build a healthy relationship with money is essential.  
Disclosure: This blog is not investment advice and should not be relied on for such advice or as a substitute for consultation with professional accounting, tax, legal or financial advisors. The observations of industry trends should not be read as recommendations for stocks or sectors.
Ready to Get Started?
Real financial planning should pay off today, and in 10 years' time.