Investor by Day, Binge-Watcher by Night: The Power of Retail Investors
How Squid Game, a Netflix TV show managed to spike the Korean media stock market within 10 days of release – and what it can tell us about the power of retail investors.
Published September 30, 2021
A new Netflix show is poised to become their biggest moneymaker yet. Squid Game has overtaken screens around the world, both on the digital streaming platform and across social media with countless memes. The show, set in Korea, depicts a Hunger Games-esque survival game for a variety of contestants with financial struggles and unsurmountable debts.

What's of most surprise isn't the popularity of Korean entertainment, but rather the impact it's had on the Korean media stock market and what it tells us about the power of retail investors.
About Squid Game, Sans Spoilers
The nine-episode season tells the story of 456 individuals with financial struggles and unpayable debts, who are invited to participate in a secret survival game for the chance to win a ₩45.6 billion ($38.6 million) prize. Since its release the series quickly became the first Korean drama to rank #1 on Netflix's top 10 TV show chart in the US (among other countries), and Rotten Tomatoes gave the series an approval rating of 100%.
The inspiration for the show itself came while the director, Hwang Dong-hyuk wondered how he would feel if he were playing a similar game. "I wanted to create a sense of connection between the nostalgic games we played in our childhood and the sense of never-ending competition that modern adults feel," said Hwang, "There's an irony in our most beautiful and innocent memories being changed into the most horrifying reality." 
A combination of great talent, impeccable production, and a binge-worthy plot has resonated greatly with the public. Not to mention that financial struggles and debt are real life problems that most people face at some point in their life.
Investors Speculating to Win Big
Viewers aren't the only people generating noise from Squid Game, investors have also played an important role. At least two companies related to the show have seen a stock surge thanks to the show's popularity and success. Investors saw the show as an opportunity to invest in companies that have a connection (and may be indirect beneficiaries of it), anticipating that Squid Game could be a huge and quick success.
According to Bloomberg, Bucket Studio Co., a stakeholder for the agency representing the show's lead actor saw a 70% jump, while Showbox Corp, a company whose predecessor is an investor in the show's private production company saw a 50% jump. CJ ENM's affiliate Studio Dragon was also triggered by the show's viewership with a 5.7% jump.
The Power of Retail Investors
Technology has made it easy for people to start investing, not only across a variety of user-friendly platforms, but also with the growing influence retail investors can have on each other. The availability of commission-free trading mobile phone apps that can help customers trade in seconds (with the push of a button) was a game changer for the industry and for new investors. In short, the increase in internet speed, technology, and commission-free trading apps have helped blur the lines between a retail consumer and an investor.
For some, amateur retail investors operate on a "from one hot theme to the next" basis, pushing big stocks like Apple and Tesla, or taking part in short-selling boosters like GameStop or AMC. In fact, Wall Street is now tracking the trading activity of retail investors.
Retail Investors in 2021 may have accounted for 23% of all US equity trading so far, doubling the 2019 stat, according to Bloomberg Intelligence analyst Lary Tabb. Furthermore, a study by Deutsche Bank indicated that a little under half of US retail investors started their investor journey in the past year.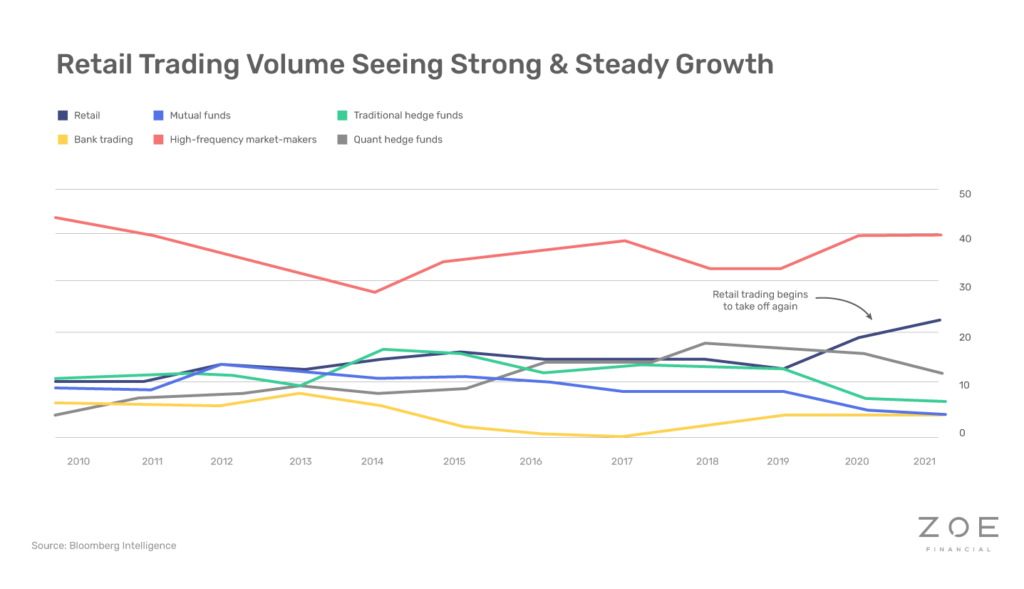 With little-to-no experience in investing and an innate instinct to follow hot trends, young retail investors find themselves influenced to trade with little investing process to back up the decision making process. This makes it very easy to get swayed by things of their interest leading to impulse-trading, rather than evaluating company fundamentals, and risk involved.
What's the risk to the non-professional investor?
Every day we see more cases of a stock's drastic changes based on consumption, news, and trends. Whether it's a sweatshirt worn by a celebrity or a TV show that disappointed people with its ending, the consumer has the power to shape the markets when there's a common perception of value.
Investors do their homework on all the possible earning streams and beneficiaries that something like a successful TV show can bring.
A lack of process to evaluate the business fundamentals may lead to unachievable heightened expectations. It's fair for young and ambitious investors to get inspired by other people's success in retail investing, but it is very important to understand that regardless of your investment experience, short term past investment success does not equate to durable future long term investment success.
Disclosure: This blog is not investment advice and should not be relied on for such advice or as a substitute for consultation with professional accounting, tax, legal or financial advisors. The observations of industry trends should not be read as recommendations for stocks or sectors.
Ready to Get Started?
Real financial planning should pay off today, and in 10 years' time.