Summary:
Why are there so many young first-time golf major winners?

A look at why the same generation that's winning their first major championships, aren't buying their first home




---
"People often say "there's a first time for everything". Well, this past weekend was no different as Brooks Koepka won the 117th U.S. Open, a first for him. This makes Brooks the 7th consecutive first-time golf major champion.
Is the fact there are so many first-time winners a coincidence? Is it timing? Maybe fate?
The current parity in golf winners can most likely be attributed to three factors:
1. The growing number of new golfers playing at such a high level.
According to a study done by Forbes, a record number 2.4 million people took up golf at the peak of Tiger Woods' popularity, with a large portion of them being under 10 years old. With so many young golfers setting their goal to be the next Tiger Woods, it makes sense that so many of the recent golf major winners, including Koepka, Jordan Spieth, and Jason Day are under the age of 30.
2. Tiger Woods
Another big factor can be attributed to Tiger Woods himself. Woods reign on pro golf left the rest of the tour playing catch-up for so long that once his dominance came to a screeching halt, it was only a matter of time before the next generation took over.
3. Age
Lastly, though there have been a few first-time major winners over the age of 40 in recent years, the young age of many golf pros definitely has its advantages. According to Jake Nichols, a golf statistician, there is a noticeable decline in most golfers performance when they reach their late 30s.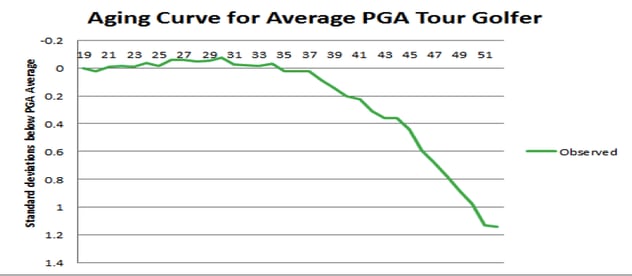 Though interest in golf has often skewed towards an older generation, this data suggest that not only is the game being dominated by a younger crowd, but with the likes of Phil Mickelson, Vijay Singh, and Tiger Woods himself getting past the pinnacle age for the game, the trend of young first-time major winners isn't going to slow down.
Something completely different can be said about young first-time home buyers. According to the National Association of Realtors, first-time home buyers made up approximately 35% of home purchases in 2016, up from 32% in the previous year which was near all-time lows. Not surprisingly, of the new-home buyers, 66% were under the age of 36, down from 68% from the year previously.
Though the trend for first-time home buyers is moving slightly upwards, the data indicates that Millennials don't have the same means or desire as the Tiger Woods generation to purchase their first home.
There are 3 main reasons to assume this:
1. Business Insider suggests that millennials are having a harder time purchasing their first home due to higher student loan debt. In fact, research by the Federal Reserve found that a 10 percent increase in student loan debt causes a 1 to 2 percentage point drop in the homeownership rate for student loan borrowers during the first five years after exiting school (read Is college worth? Maybe not and our guide to paying down student loans). Additionally, the article argues that it's much more difficult to get a mortgage today than it was pre-2008 due to the fact lenders now have much more strict debt-to-income rules, an issue if you're walking around with high student loans.
2. Another reason could be that for the first time in the last 130 years, living with parents is the most common living situation for Millennials making it easier for this generation to postpone buying their first home since they are also getting squeezed with rent prices increasing.
3. Lastly, another big factor is simply that Millennials are generally waiting longer to start a family and tend to pass on the suburbs to live in more dense urban (and often more expensive) areas. Most people in this age group tend to prioritize travel and career over stability and the suburbs.
That said, there is one thing that first-time home buyers and young pro golfers looking for their first major championship have in common… Preparation. The difference between coming out on top or not often comes down to planning as each golfer and home buyer should spend time mapping out each step (or shot) of the process to put themselves in the best position to achieve their goal.
If you enjoyed this post, check out Old Guys and a Mom-To-Be, Will These Tennis Greats Ever Retire?