Put Your Money Where Your Values Are
Once you understand where it is that you want to make an impact, structuring your investment strategy and making sure your portfolio is aligned with your values becomes much easier. 
Published October 25, 2021
Written By:
Sabrina Lowell, CFP®
Zoe Advisor Network
Investor Interest in Value-Aligned Portfolios
The evolution of awareness on environmental, social, and governance (ESG) factors in relation to sustainable investing has risen vastly over the past two decades. Investors are more and more interested in structuring a portfolio aligned with values. ESG topics come up in almost every initial client conversation, as opposed to 20 years ago when I would get an occasional "how can I invest in socially responsible companies?" question. 
Though Socially Responsible Investing (SRI) has existed since the 1980s, the term "ESG" was born in 2005 when a report argued that integrating environmental, social and governance factors in capital markets was a positive step forward in growing sustainable markets. 
Some have no idea what ESG even means, while others are on the constant lookout for firms with ESG offerings. As investors have continued to seek out these types of investments, more fund companies have rolled these offerings out. 
What is ESG Investing
Where does ESG investing fit in the investment landscape? 

Environmental

criteria might measure a company's conservation efforts, pollution, and water conservation.

Social

factors may include worker health and safety, privacy and security, and community involvement.

Governance

criteria may refer to shareholders' rights, transparency, ethics, and fraud.
How To: Define Your Desired Focus and Values Lens
ESG is traditionally thought of as being a spectrum of investment decisions and integrations. The first step is defining your desired focus and values. Once you understand what your values are and where it is that you want to make an impact, structuring your investment strategy becomes much easier. 
As an individual investor, you can apply your own value system. However, if you're investing as a couple, you can base it on shared values, develop a ranking system, or a mine-theirs-and-ours approach.
If you are a strong believer in your principles and the sustainability themes you are passionate about, like climate change, water solutions, gender, and racial inequality, or reducing plastic waste among many others, you will be able to align your investments towards the principles you stand for. 
The things you stand for are equally as important as the things you stand against. 
Friendly reminder: find the companies that go against your ESG beliefs in order to avoid supporting them. By doing so, you can focus your efforts on the companies that fully align with your values. 
Let's take for example… Women Inclusion 
Over the years, I have found a common theme in the portfolios of career-engaged women. Most of the time, these women were stuck in a limbo where they wanted to build out a portfolio that performed well, but they also wanted to make sure they were supporting women like them when investing. 
The standard ESG lineup is often seen to have a "capital E" meaning the principal focus is usually the environment. However, with women, it's important to be able to answer this question and spot the right companies to support. Here are a couple of examples of companies you can support:

Companies with a strong women presence on the board

Women-owned businesses

Companies that support female empowerment and equality

Overall gender-diverse companies 
When you are looking at it from the other perspective, look out for the "red flag" companies with:

Little to no women presence on the board 

Only male leadership

Lack of disclosure on gender diversity policies or refusal to act on them

Negative reputation against women in the workplace
Can Anyone Invest in ESG? 
Whether you're just starting out, mid-career, or in retirement, innovations in technology, and investment products for ESG solutions now combine the best of both worlds: a cost-effective, sound, and well-diversified ESG investment portfolio that captures market returns through ethical investing. 
Three Types of ESG Portfolios: 
Preconfigured Single Strategy

– Single ETF or diversified fund with specific ESG objective for those just starting out with smaller balances.

Tilting Towards

– Fully built out ETF or mutual fund strategy, including desired market tilts like size, value profitability, and momentum. A major emphasis within the tilted ESG portfolio is towards environmental sustainability.

This strategy seeks to reduce exposure to greenhouse gas emissions and potential emissions from fossil fuel reserves which have been found to be contributors to climate change.

Fully Customized

– Individual stock strategy SMA (Separately Managed Account) works with clients to take a deeper dive on values and can build portfolios in alignment with those stated values. 
You can apply filtering criteria to accentuate desired tilts based on your interest, for example, Women's Inclusion, or the removal of particular companies like those with no racial or ethnic minority on their US company boards. This strategy is also a tax-effective option!
ESG Investing: A strategy that ensures your portfolio is aligned with your values
The evolution of ESG investing has been fast-moving and eye-opening for many. Now, more than ever, people are standing up for their beliefs and are looking for opportunities to support their values while generating profitable returns. 
An effective ESG investing strategy combines finding the values that are most important for you to support, as well as thinking rationally and finding the right information in order to act on them. 
ESG investing is not an "all or nothing"; there are multiple strategies that can be applied to your interests and your life status. With sustainable investing, you are putting your money where your values are, and the range varies on many factors. The image below shows a range of investing approaches, from traditional portfolios to philanthropic investing.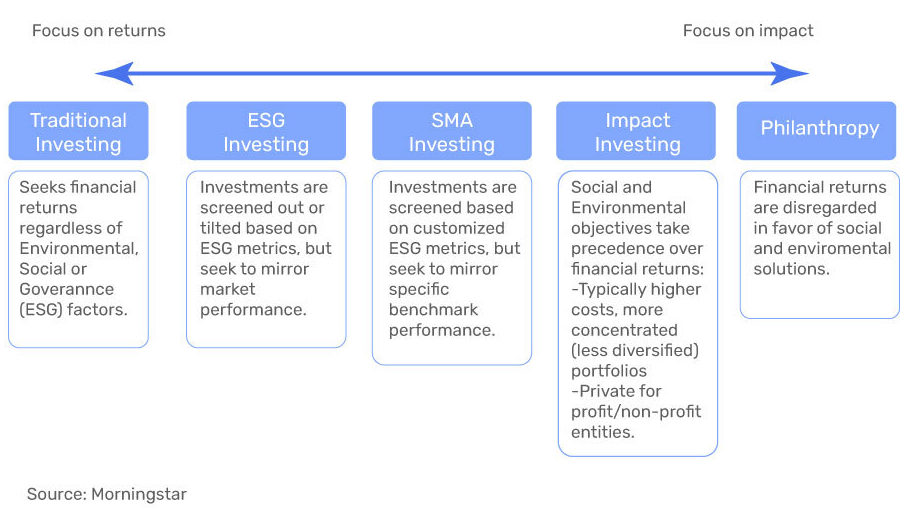 Want to learn more? Speak to a financial advisor about the benefits of ESG investing, and how you can align your investments and portfolio with your values. 
Disclosure: This blog is not investment advice and should not be relied on for such advice or as a substitute for consultation with professional accounting, tax, legal or financial advisors. The observations of industry trends should not be read as recommendations for stocks or sectors.
Ready to Get Started?
Real financial planning should pay off today, and in 10 years' time.