We've grown accustomed to skyrocketing student loan debt figures. In 2020, 45 million borrowers, across all age groups and demographics, owed collectively nearly $1.6 trillion in student loans. Yet despite the high amount of debt many students incur, receiving higher education is still an investment that most believe is worth the cost. During a recession, one of the worries that may be occupying your mind is if now is the right time to take on student loans. With the economy in a frail state, understanding the complexity of student debt can enable you to make the best decisions for your unique situation.
Loans after the Great Recession
According to a Great Recession (2008-2009) study published in the Journal of Financial Economics, student loan defaults rose 30% after the massive collapse in home prices. As a result of decreased employment opportunities, many sought to improve their job prospects with a higher education degree.
After 2009, the U.S Department of Education introduced the Income-Based Repayment Program. The purpose of this plan is to help people whose federal student loan debt is high relative to their income and family size. This plan reduced the risk of loan payments being contingent upon discretionary income by adding insurance for borrowers. The study mentioned previously also indicates that the Income-Based Repayment Program reduces the individual's loan defaults and their sensitivity to home price fluctuations.
Loan Interest Rates in 2020
The interest rates for federal student loans are set annually by a Department of the Treasury auction. In early May 2020, the new rates set for student loans were publicly released and set a significant precedent. The interest rate for student loans for the fall of 2020 is going to hit a decade low. Note that these rates are set effective between July 1, 2020, and June 30, 2021, so if you have a previous loan, the rate of that loan is locked-in to the date chosen when you took out that loan.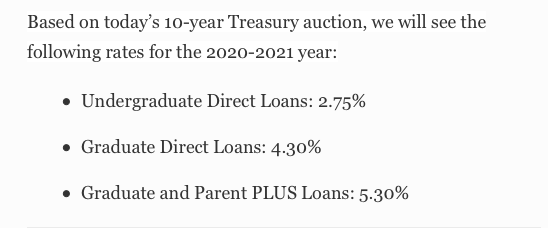 Source: Forbes
What Happens When the Federal Government Lowers Loan Rates?
All student loans have different characteristics. If you have a student loan right now, there is little likelihood that these low-interest cuts will affect you as the majority of students in the US have fixed-rates. That said, if you have a variable interest rate, there is good news!
If your student loans have a fixed interest rate, you are 'fixed' to an agreed interest rate regardless if in the future the rate changes in the open market. However, if it's your first time taking out a student loan, you may want to take these new lower rates into consideration. The first step you'll want to take if you're evaluating your existing student loans, or even taking out new ones, is to reach out to the loan provider and discuss rates and assistance programs. For example, if your income has been impacted by the current situation and is lower than it was in the past, you can change your monthly payment by requesting your loan servicer to recalculate your monthly payment.
If you are a student with a variable-rate loan, the interest rates for your loan fluctuate alongside market rates. Keep in mind that most of these types of student loans come from private, non-federal sources. If you have this type of loan, it could take a while to see changes in your payments because private lenders tend to hold and slow the process of decreasing these rates. That said, these rates are the lowest we've seen in a decade which should help lower the interest rate you pay on your loan.
How Can I Stay Compliant Under an Existing Federal Student Loan?
In March, the U.S. Department of Education (ED) office of Federal Student Aid signed the Coronavirus Aid Relief, and Economic Security (CARES) Act, a $2 trillion stimulus package that includes relief for federal student loan borrowers. In short, it allows students to suspend payments for six months, up until September 30, 2020. It also automatically waives interest during that six-month window. If you elect to suspend payments now, your loan balance will be the same after you decide to begin your payments again.
Considering Student Loans During a Recession
With new lower interest, this may be the time to reassess your holistic financial plan. If, for example, your interest rates go down by 1% or 2%, the percentage saved annually can represent significant savings. That said, it's normal to be concerned about increasing your student loan debt regardless of how the economy is doing. In some cases, pursuing higher education makes a meaningful difference in the opportunities available to you post-recession. However, it's critical that you carefully evaluate the costs and benefits of getting into debt prior to taking a student loan.