Black Friday shopping have you feeling a twinge of regret?  Whether the feeling is from missing your favorite team win their afternoon game, or your aching feet after standing in never-ending lines, you are not alone. Approximately 52% of Americans regret items they've bought on sale. Wondering if you made the right call on that spur of the moment in-store purchase has as much to do with buyer's remorse as it does with the variety of options that now exist as a result of digitalization. Mounting evidence confirms digital shopping has more benefits for consumers, be it on Cyber Monday, or throughout the year. 
Black Friday has been the US's biggest shopping event of the year for brick-and-mortar stores. They slash prices on thousands of products and services to draw shoppers in. The strategy worked for several decades, but the way in which consumers shop is rapidly shifting. 
The Cyber Shift
As discussed in our research and previous articles, it comes as no surprise that everyday practices, be it searching for a partner, listening to music, or finding a financial advisor, have rapidly transitioned into the digital domain. The World Economic Forum's multi-year Digital Transformation Initiative found the consumer industry has been the most impacted by digitization. Retail has felt the largest transformation due to how intricately tied it is to our day-to-day lives. 
The Erosion of Traditional Retail
Fundamentally, the move towards retail online purchasing by consumers can be characterized by increased convenience, access to products, and more control over choice. While for the retailer, digitalization has transformed shopping towards e-commerce, namely: the ways in which they sell products (distribution, communications, and transactions), the retail settings (where shopping takes place), the nature of the retail offerings (increased offerings and pricing), and the participating actors. Taking that all into account when considering the biggest shopping day of the year and digitalization means that mass sales (aka Black Friday) take on a very different look than they did decades ago.
Cyber Means More Savings
The traditional retail model revolved around the product, namely, the means by which the product was transferred from a supplier or factory to a consumer. To ensure success, the retailer had to optimize the process of buying low and selling high. Digital disruption has led a select few, like Amazon and Alibaba, to master the art of that optimization under a new model, while the brick-and-mortar stores have sought to catch up in the process. Ultimately, the model has transitioned from being product-centric to being customer-centric. Optimization requires the collection of data around a digital value chain geared towards enticing the customer as much as possible. 
On average, peak savings in 2018 on Black Friday were 18.5% while 2019 Cyber Monday savings were 21%. Digital transformation has brought on these type of savings due to a disruption of the retail industry as a whole. Ted Donath, the VP of Communications, for discount-shopping browser extension, Honey, revealed "when comparing the two days last year, we noticed more savings on Cyber Monday, as consumers shifted their purchasing channels online." Not only does shopping online equate to more savings, it also reduce buyer's remorse and increases trust.
A Week of Deals
As the New York Times reports, "the divide between the in-store sales of Black Friday and the online deals of Cyber Monday has eroded." Online sales now stretch from several days before Thanksgiving to the following week, providing consumers with increased liberty to manage their time while shopping. You can shop at any time you want! No need to be tied down to a 24-hour window of "door-buster deals." The Billion-Dollar Holiday forecasts this entire Thanksgiving weekend to reach $29 billion, nearly $10 billion more than just two years ago. E-Commerce sales tip the scale.
More so, expanded offering via digitalization means increased information. It makes sense that Adobe Analytics found more online purchases were made on Cyber Monday in the US last year than Black Friday itself, with American consumers spending $7.9 billion.
The Web Decreases Buyer's Remorse
The pestering post-purchase nagging you feel can be attributed to cognitive dissonance. You regret buying the item because the decision was linked to an emotion (ie, I felt uneasy with the number of people clawing at the "$200-off" cashmere sweater and felt pressured to purchase it), an assumption of knowledge (ie. I thought I really needed it, but turns out I have basically the same pair at home), or concern over the deal (ie. It seemed like a tremendous bargain… only to find I was jipped because it's poor quality). As a consumer on Black Friday, traditional retail puts you at a huge disadvantage while being sold on the idea that it benefits you – talk about a reason for feeling a little awful after! 
Luckily, digitalization can give you the power to feel less remorse. Black Friday isn't necessarily a brick-and-mortar shopping day. Business Insider reports 68% of respondents said that on Black Friday, they also spent time shopping online. Yet another indication of how digitalization is shaping a hallmark shopping. Online shopping experiences thus provide specific discount experiences to favor both their "Cyber-week" and Cyber Monday consumers; whereas, traditional retail will only offer deals on Friday.  
If you have a week to shop at a reduced cost and the ability to review price at all of the stores that offer the pair of shoes you've been lusting after all year (at the same time!), you're far less likely to regret the purchase. Furthermore, e-commerce sites typically give you the ability to view reviews from previous customers. A recent study by Northwestern University showed that by reading the reviews, the consumer reduces the risk associated with a purchase. Positive reviews can also help generate trust by ensuring the quality of the product you're purchasing. As noted, the digitalization of shopping has led to a more customer-centric experience, which in turn drives consumers towards purchasing online. 
Th
e Future of 
Shopping
While it may feel like e-commerce has taken over, consumer preference for shopping online still has ample room for expansion, particularly on sales-driven holidays like Cyber Monday. In 2013, China overtook the US as the largest digital retail market in the world. A 2018 PriceWaterhouseCooper (PWC) report on China's trajectory found the exceptional momentum in growth was driven by digital innovations that focused on the consumer's demands.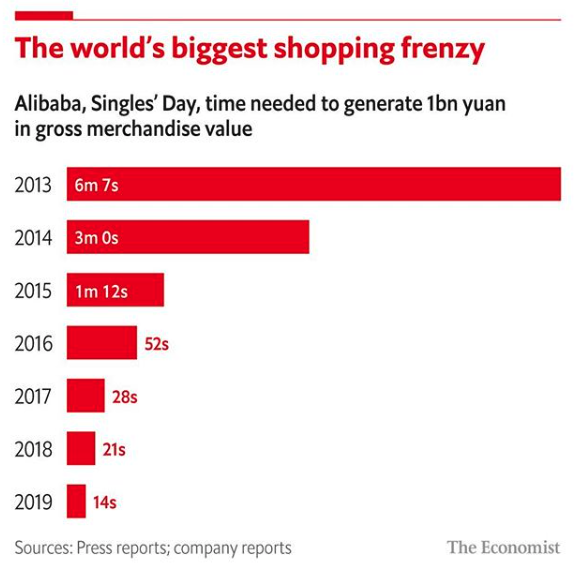 China's e-commerce giant, Alibaba, has emerged as a global leader in cyber sales. By transforming the customer's online experience, the company's sales on Singles' Day, China's version of Black Friday/Cyber Monday, show tremendously rapid growth year over year. This year, $38.4 billion, worth of products were sold. Be it Taylor Swift's showstopping performance to begin the 24-hour shopping frenzy, the quality of the deals due to improved process, or the ease with which consumers were able to make purchases, it's clear there is no stopping online shopping. Not only has it eclipsed worldwide online sales, it's the clearest example of where America's cyber shopping will go next.
The shift in shopping, from brick-and-mortar Black Friday sales to a total e-commerce experience, is entirely dependent on the costumer's demands and ultimately, their best interest. From reducing stress and buyer's remorse to improving savings, digitalization is here to stay. This Cyber Monday, enjoy the variety of benefits online shopping has to offer, and take note of how technology continues to positively shift your daily experiences.