23 days shy of his 30th birthday, Andrew Luck, former NFL Indianapolis Colts quarterback and 2018 Comeback Player of the Year, has announced his retirement. The announcement comes as a shock for many, due to both his spectacular past season (39 touchdowns and 4,593 yards) as well as the potential $450 million he is leaving by quitting football. 
What Happened?
Luck had the magic touch – during his time as starting quarterback at Stanford, where he studied Architectural Design, he led the team to win 12 games in a season after more than 4 decades of Stanford never winning more than 10 games, in addition to its first and second-ever BCS bowl berths. After completing his degree, he played for the Colts for the next 7 years, where his leadership resulted in the second-largest playoff comeback in NFL history. A true all-star, Luck began experiencing crippling pain as a result of his injuries. 
As revealed this past Saturday, after he watched his last game on the sidelines, his very-early retirement was brought on by football-induced ailments and mental exhaustion. "I'm in pain, I'm still in pain. It's been four years of this pain, rehab cycle," Luck noted at his retirement press conference. "It's a myriad of issues — calf strain, posterior ankle impingement, high ankle sprain. Part of my journey going forward will be figuring out how to feel better." The news has floored football fans, and fellow players alike, who can't imagine how he could drop the ball at this stage of his career. 
Luck's Retirement Finances
While no one knows what the future holds (perhaps unretiring once healed like Tiger Woods or Michael Jordan?!), we can certainly wonder how an early retirement looks like for someone like Luck. 
Excluding sponsors, he earned $97M for 7 seasons. Let's say that his effective tax rate is 39%, which means he took home $59M after tax in 7 years or $8.45M per year.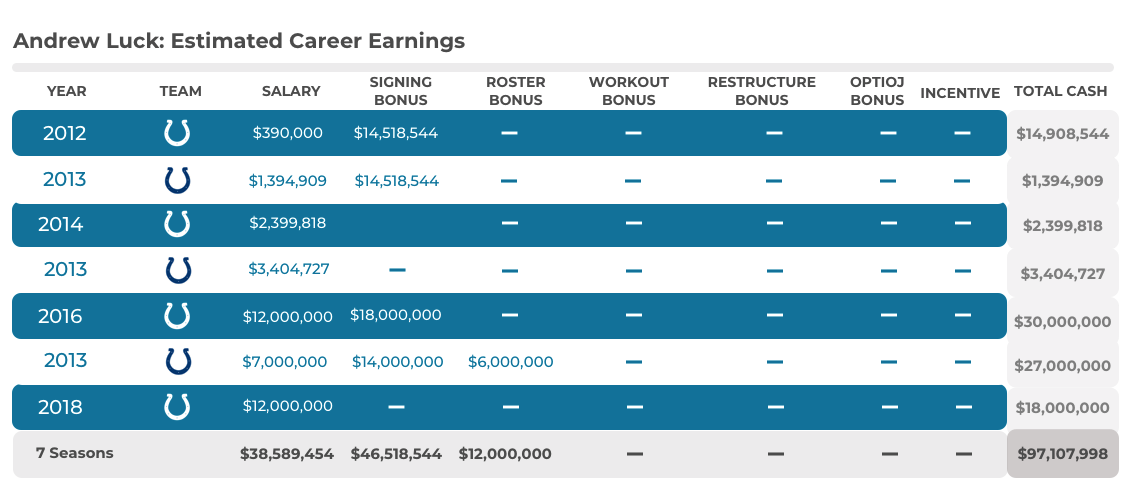 Just in his current contract, he is leaving $58M on the table. But as Colts owner Jim Irsay said in the press conference, Luck is potentially leaving $450 million, or half a billion dollars on the table by retiring. 
Can He Retire Early?
If he had decided to continue, he would have benefitted from the three years remaining on the six-year extension he signed on June 29, 2016. A deal that reworked the final year of his rookie contract and added five more, worth $139M in total.
Let's assume he spent $2M a year, which means he should have saved $45M. Use the interactive chart below to see: if he continues to spend $2M a year and invests his $45M in a diversified portfolio yielding him 6% per year, his money would not last him until retirement. However, if he cuts down on his expenses and spends $1M a year, the money he's made to date will likely outlive him.
This is a perfect example of how each person's financial life is unique. For Luck, leaving $500M on the table was the right choice for HIM. He lived in pain, didn't enjoy his job and has enough money to not have to do that job anymore. In addition, as you can see in the above scenarios, how much you spend in retirement is a big factor that determines if you will outlive your money or not. Plus, as a Stanford grad, we're sure he was smart enough to hire a great financial advisor to help evaluate his specific situation.  As he has mentioned in a number of interviews, he is looking to spend his time with his wife and baby-to-be. Can't really argue with that. 
What does this chart account for?
A 3% inflation rate

A 6% rate-of-return on his initial savings investment pre-retirement 

A 5% rate-of-return on his  initial savings investment post-retirement (changes in asset allocation)
This chart is based on Assumption of Annual Expenses